Barcode Creator - Professional Edition
Only at $69
Barcode Label Creator Software – Professional Edition provides facility to create colorful and printable barcode labels, tags, and stickers. Designed with newly added features, Barcode software facilitates user to design labels using text, graphics, barcodes etc. Barcode Maker Software creates bulk barcode labels using sequential, random, and constant barcode series designing methods.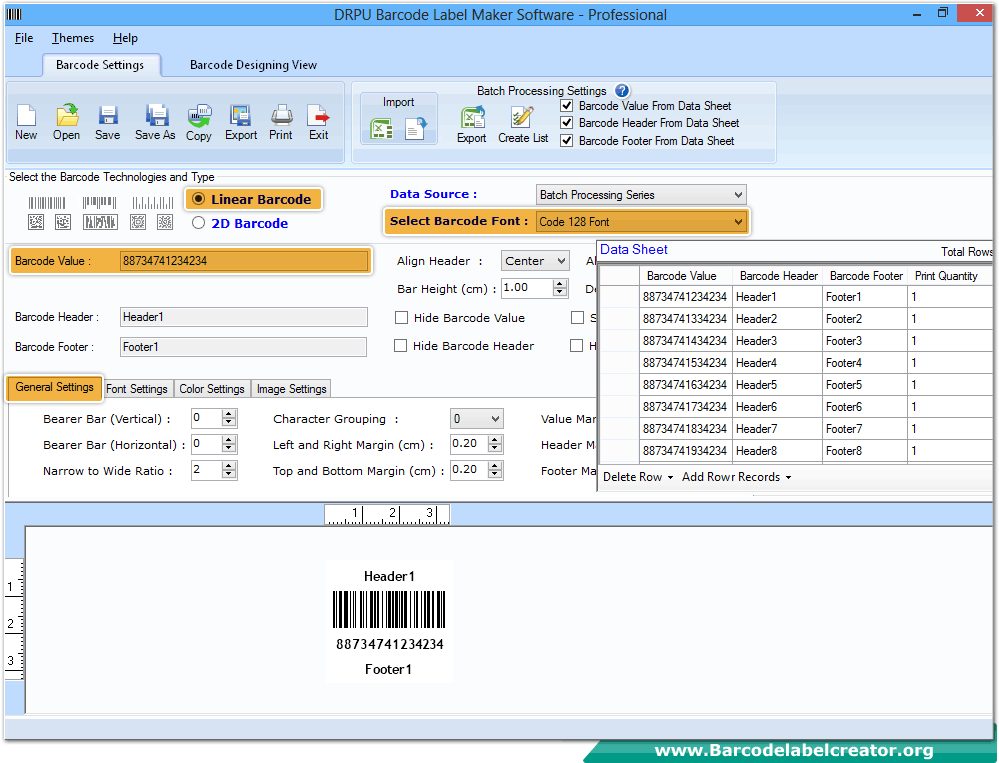 Software features
With step-by-step barcode designing view feature, user can easily design different style labels using barcodes and various other designing objects (Line, Text, Rectangle, Picture, and Ellipse).
Barcode generating software allows user to create customized barcode label using interactive barcode settings. User can easily set color, bar width, bar ratio, rotation, readable text font, bar width and more with full control over all barcode dimensions and features.
Barcode software prints multiple barcode labels at the same time. Program supports all commonly used scanners and printers.
Barcode making software saves the barcode images in different graphics file formats like bmp, jpeg, tiff, wmf, png, emf, exif and gif.
Barcode label software provides facility to add up barcode labels in different Windows applications like MS-Word, MS-Paint, MS-Excel etc.
Supported Barcode Fonts
Linear Barcode Fonts
Codabar, Code 11, Code 128, Code 128 SET A, Code 128 SET B, Code 128 SET C, Code 39, Code 93, Code 39 Full ASCII, EAN13, EAN8, Industrial 2 of 5, Interleaved 2 of 5, ISBN 13, ITF-14, LOGMARS, MSI Plessey, Planet, Postnet, Standard 2 of 5, Telepen, UCC/EAN-128, UPCA, UPCE, USPS Sack Label, USPS Tray Label, USS-93
2D Barcode Fonts
Aztec, Databar, Databar Code 128, Databar Code 128 Set A, Databar Code 128 Set B, Databar Code 128 Set C, Databar Expanded, Databar Limited, Databar Stacked, Databar Stacked Omni, Databar Truncated, Databar EAN 13, Databar EAN 8, Databar MicroPDF417, Databar PDF417, Databar UPCA, Databar UPCE, DataMatrix, MaxiCode, PDF417, QR Code, MICR Font
Barcode Creator Software
Card Maker Software