Barcode Creator for Post Office and Bank
Only at $49
Barcode label maker software is simple to use application to design ready to print bank barcode labels and post office barcode labels. Barcode software is useful to create postal stickers, envelope labels and postal tags in simplified way. Barcode designing view allows user to generate bank labels and postal barcode labels. Barcode generator software provides facility to design colorful post office barcode labels and bank labels with option to saves created postal labels in a variety of graphics formats like JPEG, GIF, PNG, TIFF and EXIF etc.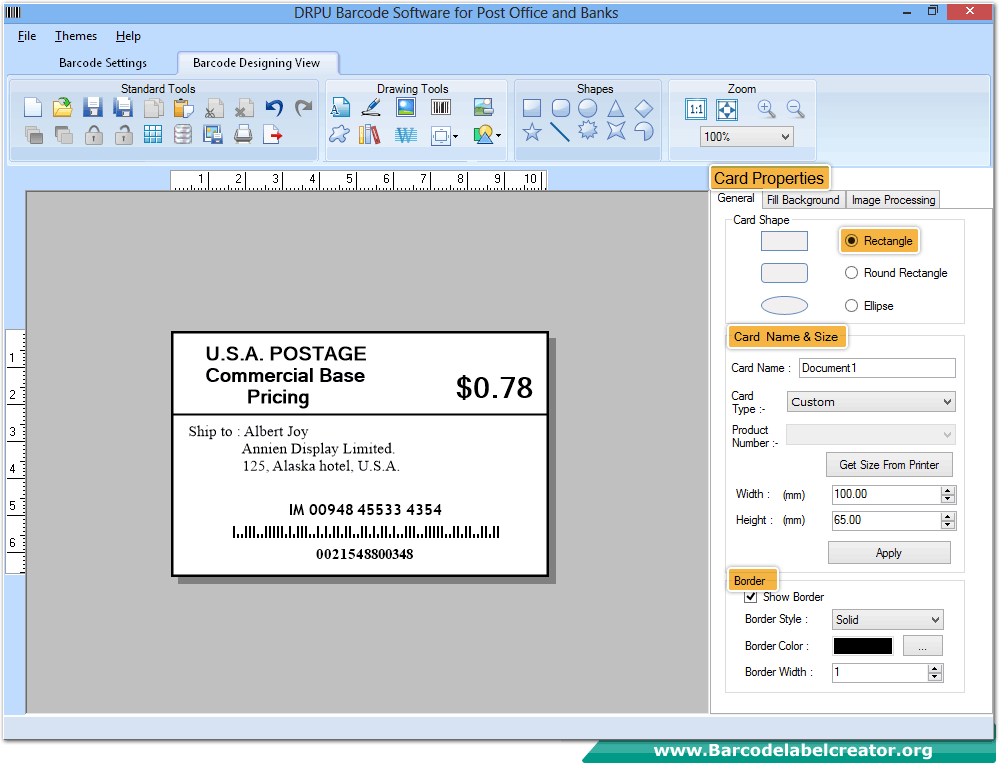 Software features
Postal barcode labels, postal stickers and bank barcodes can be easily composed through barcode software.
Barcode creator software supports different designing objects like rectangle, ellipse, text and line to design high resolution postal barcode labels.
Font, color, density and size settings options helps user to create users desired postal and bank barcode labels.
Large numbers of postal labels and bank barcodes can be printed via printing settings.
Supported Barcode Fonts
Linear Barcode Fonts
Code 11, Code 128, Code 128 SET A, Code 128 SET B, Code 128 SET C, Code 39, Code 93, Code 39 Full ASCII, ITF-14, LOGMARS, Planet, Postnet, USPS Sack Label, USPS Tray Label, USS-93
2D Barcode Fonts
MaxiCode, MICR
Barcode Creator Software
Card Maker Software